On Sale
Charcoal and Aloe Bar
Charcoal and Aloe Bar (oily skin)
This Charcoal and aloe facial bar for oily facial skin. The combination of charcoal, tea tree essential oil, and tamanu oil leaves skin feeling clean and refreshed.
Made with detoxifying, activated charcoal and moisture boosting aloe vera. Deep clean clogged pores while rejuvenating tired skin with maximum hydration from the whole leaf of three species of aloe vera. Our best-selling combination of charcoal and aloe will give you unmatched multi-beneficial results! Our soap bars contain no parabens, sulfates, or synthetic fragrances. What sets our charcoal soap apart is our formula combining aloe vera and activated charcoal, producing detoxified, moisturized skin. Achieve that envied CLEAR, GLOWING, and noticeably BEAUTIFUL complexion!
For best results, apply directly to skin in shower or bath. Lather. Rinse with warm water.
Our soap is handmade in small batches using the finest natural and organic ingredients along with our signature aloe vera.
Ingredients: Aloe Vera, 100% Natural Activated Charcoal, Propylene Glycol, Sorbitol, Water, Sodium Stearate, Sodium Laureth Sulfate, Sodium Myristate, Sodium Laurate, Aloe Barbadensis Leaf Juice, Olea (Olive) Europaea Fruit Oil, Yellow 5, Green 3, Tamanu Oil,
Customer Reviews
02/23/2021
aimee .

United States
Love.Lifexox@aol.com
Loving this heart bar! The way my skin feels and looks is great! Has really cleared up my skin! Thank you!!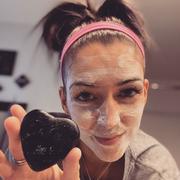 12/03/2020
Angie R.

United States
Love
Love it!!!!Also love that it doesn't dissolve in my soap container
11/07/2020
Michelle Q.

United States
We love it
My husband and I are totally in love with everything we've purchased so far and look forward to being long term customers